When I graduated from university I thought I was destined to work at an advertising agency. I reached out to former alumni from my school on LinkedIn, and wrote tons of custom cover letters telling my story. This went on for months until an entrepreneur starting a technology company took a chance on me and put me in charge of marketing his app.
It's worth mentioning that the job wouldn't have existed if it weren't for programs like IRAP that covered 75% of my salary. This program let a bootstrapping entrepreneur hire me full time for a year to learn how to be a web marketer. Within a week of getting the job I packed a u-haul and moved to Halifax with everything I owned.
I learned more in a year working at that little startup than I ever could have at an agency. Everything from how to build a website to how to sell to Fortune 500s and a slue of other skills that have opened doors for me since.
Process and Technology
Since that role I've jumped from company to company working in increasingly complex environments on tougher problems. No matter what role I've filled I am always focused on the same thing – fast, scalable, growth using process and technology. We live in a very important time in history, where the speed that technology is improving our lives is making any person, product, or service that embraces technology and technological innovation inherently more competitive.  This means many things that have for a long time been done a certain way are being re-invented with new process and new technology in mind.
Understanding and using this fact in your life and work will accelerate your career progression in most private sector work environments.
Seek out "No"
When I've felt my learning is tapered in life or at work, I ask for more. If I get "No" for an answer, I look deeper into the "why". If there was a secret recipe to success, for me this would be it.
[Tweet "The worst thing they can say to you is no, if they do, it teaches you about your perceived value."]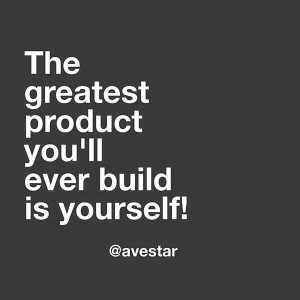 Get better, learn more, work harder and be humble. Productizing yourself is about being a better person everyday and it's as much about how you make other people feel as it is how you feel.
credit:@avestar

On progress
[Tweet "If you're never getting "no" for an answer you're not shooting high enough"]
If you like these kinds of concepts, do me a favour and let me know by subscribing to be notified when I write. It will help drive me to do it more often.